Post by Taliesin on Apr 30, 2014 17:20:00 GMT -6
I've admired this guy's wordsmithery for some time, and I still do even though I no longer share his Christian worldview. I guess it goes to show that talent can surface anywhere, regardless of someone's personal beliefs (or, in some cases, because of?).
I believe that he was a master of rhetoric, and I really don't mean that in a disparaging way, even though the term does usually come with negative connotations. What I mean to say is that he was almost able to convince you of an idea simply by his use of written language. He would take an idea, find a way to make it explainable, and in doing so make it seem quite reasonable to believe. And that was just his non fiction works.
There are quite a few of his books that I have read again and again and again. Some of them include:
A Grief Observed
(1961) was perhaps his most honest work. In it he leaves the rhetoric behind and instead explores the emotional pain he felt after the death of his wife, Joy Davidman. It was quite a moving read, and presented a side to C.S. Lewis that I'd never encountered before. I find it interesting that it was first published under a pseudonym. I have to wonder if that was at his publisher's insistence, or his.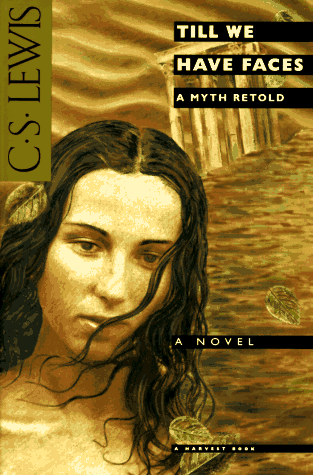 Till We Have Faces
(1956) is basically a myth retold (like it says on the cover). It retells the story of Cupid and Psyche, and was written his wife Joy Davidman.
The first part is narrated from Orual's perspective (she's Psyche's older sister) and is basically a bitter diatribe against the Gods. The second part shows her having moved on a bit, with the understanding that her earlier ranting was due to bitterness over her own misery about where her own life was going. She seems to be a little more sympathetic towards the Gods in this part. It's a fantastic story, and I think it was one of his most mature works.
And last, but not least,
The Screwtape Letters
(1942) represents Lewis at his satirical best. While I no longer subscribe to the underlying conceit (of there being literal angels and demons that observe the daily comings and goings of mere mortals), it's still a clever piece of writing. It's basically a series of letters written by Screwtape (an older more experienced demon) to his nephew Wormwood (a novice in the soul tempting business). He is Wormwood's mentor, and is attempting to shepherd Wormwood through the intricacies of trying to win another soul for hell. I love that the mortal in question is known simply as "The Patient".
Anyway, those are my picks. Does anyone else here love C.S. Lewis's writings? Do you have any personal favourites? Or are you not that impressed by his output? Feel free to share your thoughts.